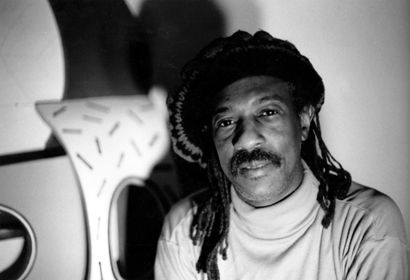 Charles Searles was born in Philadelphia to Charles senior and Catherine Searles (formerly Catherine Hall). He was the second of 8 children – Phyllis, (Charles), Barbara, Frances, Rose, Catherine, Elizabeth and only brother, Derrick.
Charles Searles was always an artist. He never considered being anything else. He got his first watercolor set at age four and always preferred drawing and painting over other childhood games. His mother was encouraging and supported his creativity, making sure art supplies were abundant. He was popular in grade school: the kid that could draw anything, design and sew clothes, make flip books, build scooters. He went to Salsburger High School, where his counselor tried to steer him away from art and toward shop class. Although he could easily do the work, his interest never swayed, and he looked outside school for more art classes. He attended Saturday classes at the Fleisher Art Memorial.
Charles worked with his father doing carpentry, construction and building renovation. He learned quickly and became a skilled craftsman and house painter. He continued to build these skills and renovated several of his own homes and studios throughout his life, taking a space that needed work and turning it into a beautiful living or working space.
At a young age, Charles found himself a father to be. He married Mary McDaniels and joined the armed service to provide for his family. He returned home to raise two children, his daughter, Vanessa and his step son, Gregory. He continued to work, raise a family and pursue art. His youngest child, Charmaine, was born in 1958. Around this time, Charles entered the Pennsylvania Academy of Fine Art. Here his talent truly began to flourish in an atmosphere of serious artistic dedication and among masters, teachers and works of art. His work embraced the tumultuous 60's and also reflected as his own family life and his surroundings. Searles also attended the University of Pennsylvania for liberal arts. He worked in the lab with noted scientists and engineers and sharpened his drafting skills illustrating their technical information for books still used by students and professors today.
By the late 60's, Charles lost his youngest child to a rare form of cancer. This took a toll on his whole family. Some of his paintings from that time reflect dark his turmoil. He continued to paint and work through his struggle. His powerful work was gaining recognition.
Before graduating the Academy, Charles received the Cresson Memorial traveling Scholarship. He traveled to Europe and met a new friend, David Wright, in Amsterdam. They remained solid friends all his life. The following year, Charles received the Ware memorial Traveling Scholarship and was the first student to use these funds to travel to Africa. He paired up with David, landed in Luxembourg, bought a van and headed first to northern Africa. David recalls " Charles was determined to make it to Nigeria. He said he felt a strong calling and related to it as the "Homeland". We were told we would never make it across the Sahara in our VW bus. We drove back to Casa Blanca, he flew to Lagos and I remained in Morocco. Nigeria was like a piece of a puzzle that completed his soul." His travels in Africa marked his life and work forever – the life, the rhythms, the patterns, the energy.
When Searles returned to Philadelphia, he began teaching at the Ile Ife Cultural Center. His African influence was enthusiastically received and was evident in his teaching drawing and painting. He also began to seriously pursue his other talent – percussion. He played all types of percussion instruments and seemed to be able to pick up anything and just know how to make it sound good. His favorite was congas, which he continued to play throughout his life. Music and rhythm were always an integral part of his painting and sculpture. It was during his time at IleIfe that he began his "Dancer" Series. This series marked a change in his life, celebrating his new sense of renewal and the African experience. The African influence, coupled with percussion and movement were clear in all his paintings and his work was getting more recognition. He was awarded his first mural commission at the William G. Green Federal Building in Philadelphia. The mural, entitled "Celebration" is still on view today. At this time, Charles was also hired as a drawing teacher at (then) Philadelphia College of Art. He remained a professor with PCA for over twenty years.
All the while, Searles had his eye on New York. He frequently visited NYC and periodically packed up the family to participate in the Village Art Show, then a serious outdoor exhibition featuring artists from New York and around the country. He made plans to eventually move to New York, meeting many new artists, enjoying the energy of the City.
Back home in West Philadelphia, his daughter, Vanessa recalls being surrounded by people from all cultures and all parts of the world. Their house had a constant influx of visitors, artists and musicians, among them Hugh Masekela and Miriam Makebah. Vanessa attributes her MSW degree due, in part, to growing up open to such diversity.
In 1978 Charles moved to New York City. He found a large, raw space, an old sewing factory, on Broadway and Bleeker, and made it his own. Once again, his ability to renovate space came into play. He remained there the rest of his life. At the time, the neighborhood was less than desirable, unlike the bustling shopping mecca it is today. His neighborhood grew, his work grew and his connections with other artists grew. He continued to commute to Philadelphia teaching part time. He met Kathleen Spicer, an art student, in 1983. They married in 1985. Together they shared a wonderful, open, artistic, social and creative experience. Their New Years Day party each year was legendary!
Charles moved away from painting and into sculpture. His sculptures were like paintings that grew out into space. The new sculptures maintained the vibrant color and patterns from his paintings but seemed to dance in three dimensions. These new works embodied a live sense of rhythm and energy – trademarks that he maintained throughout his career, whether in wood, bronze or aluminum.
Over the years, Charles participated in over 60 group show and 25 solo exhibitions. His work has been shown nationally and internationally. He maintained a connection to Philadelphia and showed with Sande Webster for over 20 years. More than a gallery owner, Sande was a good friend. Says Sande, "Charles Searles was a visionary whose artistic integrity and creative spirit inspired all who knew him. From the minute "Mr. Searles" and I met more than twenty five years ago, his voice informed my actions with regard to racism and the implicit important of the artist in the artist/gallery relationship. It will continue to do so."
Searles' travels included France, Switzerland, Germany, Holland, Denmark, Spain, Morocco, Nigeria, Ghana, Japan, Korea, Mexico and Cuba. His works are included in numerous collections, among them, the Smithsonian Institution, the Dallas, Montclair, Afro-American, Philadelphia and Charlottenborg (Denmark) Museums. He is also included in public and private collections too numerous to detail. Among the Public Art commissions he was awarded, are most recently, five aluminum sculptures for the Delaware River Port Authority, five interior bronze sculptures for the NYC Mass Transit Authority, an exterior bronze for the First District Plaza in Philadelphia, and a painted aluminum relief for Amtrack's Newark New Jersey Station. Among the many awards Charles received are the Pollock – Krasner Foundation Award, The Adolph and Esther Gottleib Foundation, the Creative Arts Project (CAPS) Fellowship and the National Endowment for the Arts.
Despite all his accolades, Charles remained modest and open. He was quick to embrace new people and ideas. He constantly strived to try new concepts and materials. His own statement reflects his genuine graciousness –
"My work is abstract, painted wood or aluminum sculptures that have a strong sense of life: faces, figures or animals. My sculptures are very animated and have a feeling of music and dance. It is often said that my work has a strong multicultural feeling and connects especially well with people of color – Caribbean, African, Hispanics, Indian and Asian. All people have a kinship with my work. Each piece is positive, energetic and is an affirmation or celebration of life. The language is clear and universal.
His wife of 23 years, Kathleen Spicer adds "Charles was his work and his work was him. Inseparable. Our lives were all about art. We lived each day as if it was a gift. To me, he was enchanted.
His vision was clear – he could envision something and make it come to life as easy as breathing. Genius.
He was never negative. Every one that ever met Charles loved him. Even people that never met him loved him through his work. He was always kind, gracious, generous and dignified and never placed himself above other people. I am blessed to have so many wonderful memories. Our life together was a beautiful adventure.
Charles made the world a better place."
Charles speaks loud and clear.